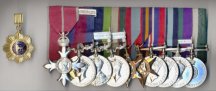 Eleven (11) medals; Clickon the medals to see them in a larger scale.
Member of the Order of the British Empire (MBE): Military division. Second issue .
Order of British India (OBI). Second class. Gold and enamel neck badge - (being worn around the neck in the photo top right)
India Distinguished Service Medal (IDSM). GVI issue. With integral top brooch bar: Subdr, Tikajit Pun, 3-2 GR
India General Service Medal 1908. GV first issue. With clasp ' Waziristan 1921-24': 678, Rfmn, Tikajit Pun, 1-2 GR
India General Service Medal 1936. With clasp 'North West Frontier 1937-37': Jemdr, Tikajit Pun 1-2 GR
1939-45 Star
Burma Star
War Medal 1939-45
India Service Medal 1939-45
General Service Medal 1918. GVI second issue. With clasp 'Malaya': Capt, Tikajit Pun, SB, MBE, OBI, IDSM, 2 GR.
India : Independence Medal 1947: 388433, Cpt, Tikajit Pun, OBI, MBE, IDSM, SB, 2 GR
Condition: NEF. The group (except for OBI) professionally mounted court style by Spink. NEF
Research details: Tikajit's IDSM was awarded in respect of his distinguished services during First Chindit Expedition behind enemy occupied lines in Burma between March and April, 1943.
The IDSM was notified in the London Gazette of 19th October, 1944 .
Below following, is a copy of the official recommendation (per army form W 1321 in WO 373/34) for the award of the IDSM. The recommendation was made by Major R.B.J.Bromhead, Column Commander, 77 Indian Infantry Brigade Group.
Quote,
"Subedar Tikajit Pun was the senior Gurkha officer of a column which was forced through a breakdown in communications and the consequent lack of rations to return across the Chindwin under particularly arduous conditions. His energy and devotion to duty were unfailing and on all occasions he set a superb example of cheerfulness in great adversity. It was largely due to his exemplary conduct that his men, despite hunger and exhaustion, regained their base as a formed body and without casualties.
He displayed the same qualities of leadership during this difficult march as he had previously shown under fire and was throughout of the greatest assistance to his column commander".
Unquote.
On his retirement from the army, a detailed summary (written by a British Officer, initialed g.j.p) of his services and character was published in the 1961 Regimental Newsletter of 2 GR. A fine photograph of Tikajit in uniform with hat felt Gurkha, and wearing his OBI and medal ribbons accompanies the article.
Quote,
"On the 14th February 1961, Tikajit Pun, one of our most distinguished Gurkha officers retired after 39 years service in the Regiment.
Tikajit enlisted in the 1st Battalion in November 1922, and saw his first active service on the North West Frontier in 1924, being awarded the Indian General Service Medal 1923-24. He served on the frontier again with the battalion in 1937 and was awarded his second IGSM for the 1937-39 campaign.
He was granted the Viceroy's Commission in 1937 and transferred to the 3rd Battalion when it was re-raised in 1940. In 1943 as a Subedar in Four Column of the Chindits, he took part in the First Wingate Expedition and was awarded the IDSM for "gallant and distinguished service." Early in 1944, Tikajit accompanied the battalion to the Arakan with the 25th Indian Division and served there until the end of hostilities. The war in Burma for the 3rd Battalion ended with the heavy fighting around Amanda, which culminated in the capture of "Snowden East", where Bhanbhagta won the Victoria Cross. By this time Tikajit had been promoted Subedar Major and in 1945, was awarded the MBE for his outstanding and gallant services in the Arakan.
Tikajit went to Malaya with the 3rd Battalion in August 1945, and witnessed the official allied return to Kuala Lumpur and the surrender parade of the Japanese.
On his return to India from Malaya and Siam, Tikajit was appointed Subedar-Major of the 2nd Battalion when it was amalgamated with the disbanded 3rd Battalion in 1946. In 1947 he succeeded "NBG" as Subedar-Major of the regimental centre in Dehra Dun, at the same time Lalbahadur VC, became Subedar-Major of the 2nd Goorkha Training Battalion.
During 1947, Tikajit was made an Honorary Lieutenant and awarded the OBI 2nd Class with the title Bahadur. Next year he became Subedar-Major of the 1st Battalion, and later on in 1948 was among the first Gurkha officers to be granted the Queens Commission. From 1950 until his retirement, Tikajit served on the Gurkha Brigade L of C in India, as an Assistant Recruiting Officer.
It is indeed a unique distinction for Tikajit to have been Subedar-Major of the 1st, 2nd and 3rd Battalions and also the Regimental Centre.
Reading through Tikajit's pre-war course reports is most revealing and entertaining. In 1936, Havildar Tikajit attended an MG course at Ahmednagar, but in spite of a total of 70 per cent he gained only 45th place out of 68 students. The next year he went to the Pachmarhi wing on a small arms course where he succeeded in obtaining an overall 88 %, but even this effort was only sufficient to gain 57th place out of 183 students. It is interesting to note that his lowest mark for any subject was 78 % for which he was awarded the grading - fair! A remarkable insight into the markings of those days. On paper his highest educational award was the Indian Army 2nd Class Certificate which he passed in 1931, he never did bother with English.
Tikajit's name was international news in 1953 when the MV "Sangola" ran aground in the Hooghly River. The ship, which was carrying some 1,500 passengers, was soon in danger of breaking up and sinking. The Gurkha's under Tikajit's command quickly organised the disembarkation of the passengers without any panic or loss of life. For this admirable action by Tikajit, the Chairman of the British India Steam Navigation Company presented the Brigade of Gurkhas with three silver bugles - The Sangola Bugles.
Lord Simon, representing Sir William Currie, Chairman of the British India Steam Navigation Company, formally presenting The Brigade of Gurkhas with three solid silver bugles, each inscribed with the BISN Co. crest and the word SANGOLA together with the date 1 st July 1953 . Captain Tikajit is standing behind Lord Simon.

Click on the picture to see it in a larger scale.
It is true to say that Tikajit devoted practically all his savings, about seventy per cent of his whole income, to the education of his three children. His eldest son Lalbahadur, who is now a Lieutenant in the 1st Battalion, was at school in Dehra Dun and passed out of Sandhurst in 1959. Santabahadur, his second boy was educated in Kathmandu and is now studying under the Colombo Plan scheme to be an Electrical Engineer at Dacca in East Pakistan. Ranmaya, his seventeen year old daughter is still studying at a convent school in Gorakhpor.
It is easy to appreciate the terrible setback it must have been to Tikajit when in 1952 a considerable portion of his savings was stolen from his home in Nepal. It is hoped that this loss was in some way alleviated by the financial help the regiment was able to offer.
In this short acknowledgement of his outstanding service to the regiment, Tikajit himself would not welcome excessive adulation, nor indeed is it necessary. His whole career is full of examples of his striking personality and strength of character. One cannot but remark on the number of times he was chosen for the most difficult and unpopular tasks, particularly when his deep understanding of human nature was needed. However, the stature of the man is so well exemplified in some reminiscences of his firm friend and one time Colonel, Lieutenant-Colonel H.C.S. Gregory, MBE, 10 GR, that I feel Tikajit could not object to the inclusion of these recollections, which are now so appropriate.
"I first met Tikajit at Kunraghat in 1949 and we served together for about three years, there and at Lehrer. During this time Kharaksing Gurung of the 6th was Gurkha Major, Tikajit being ARO and OC Depot Coy. Both were, of course, Gurkhas of the highest reputation and very strong personalities but they had enough good sense and tact to be able to function together in the same small unit without clashing - in itself no ordinary achievement.
There was a very tricky period in 1951 when civil war raged a few miles to the north of Lehra in the region of the present Paklihawa Camp. The Dande Khola which meanders sluggishly past Paklihawa used to be mentioned frequently as an important tactical feature in the operations. We were not a little concerned at Lehra especially as there appeared to be a certain amount of furtive movement between Nautanwa and Lehra Bazaar just outside. High prices were being paid for arms at Nautanwa and an armed 'franc tireur' could command a lot of money. We were therefore rather anxious for our hundred rifles in the not too secure arms kot at Lehra. We relied very much on Tikajit who clearly regarded the safety of the camp as his personal responsibility. Nothing could have had a more re-assuring effect within the camp - or discouraging effect on those outside - than to see that unhurrying, stalwart figure moving about the lines, swinging his felt hat Gurkha in his hand, as was his custom, and showing off the close cropped head and strong face with moustache slightly drooping at the corners - unsmiling, unworried, unimpressed and missing nothing.
In the mess Tikajit was always cheerful and though not indeed very talkative, a most alert listener. He said little but was always sound and very often quotable. He talked slowly with many hesitations and much thoughtful in drawing of breath through his teeth - an amusing habit of his which many will recall. Under-statement came naturally to him. Never did he describe anyone or anything as being more than, "Kharib ramo chha". All this of course is still true of him today, as everyone knows who visits him at his little fortress near Bairewa, where he lives the life of a yeoman farmer.
Tikajit does not smoke, nor drink anything but water. He told me once that he was not so strict in these matters when a young soldier but whilst attending a drill course as a keen Junior NCO he had a lesson which decided him for once and for all. He was early for parade and while waiting by the parade ground under the 'Mahuwa' trees he passed the time by eating some of the fallen fruit, as he had seen the locals do. This made him so ill that he was compelled to report sick and even to miss a drill period. He lumped tobacco and alcohol with Mahuwa berries and gave all up for good.
Tikajit's outlook was that problems exist to be solved and not talked about. In Kunraghat once, in our "HMG Camp", the leave parties returning from the hills simply could not fit into the tents available. The single men were all right but many had brought young wives down and there were just not enough 'eighty pounder' tents to go round. Characteristically Tikajit did not even discuss the matter. He considered the tents and the couples awaiting shelter and decided that if three couples slept on straw pallets in each tent all would be accommodated. He gave orders accordingly and when it was suggested to him a little later that this was rather like: 'lovers lying two and two know not who they sleep beside' he gave the completely disarming smile with which he always answered remarks that were frivolous, incomprehensible and irrelevant.
He had thought a great deal about the problems of life in the hills. Talking about the absence of banks or other facilities for investment he said the men taking their savings home was like emptying buckets of water on a hill top; it merely trickled down to the bottom. One remembered this afterwards on hearing that he had lost his savings.
All in all it was a very great privilege to serve those three short years with Tikajit and so too is it to be able to regard him as a friend. While keeping his home at village Nangi, Thum Malajha, Zilla 4000 Parbat, Tehsil No. 4 West, he spends most of his time at his property near Bairewa, where he owns good paddy land and has built himself a fine house which can be seen for miles around.
There he welcomes visitors with all the charm and enthusiasm of old times and sitting on his spacious verandah you can look across the fields to the little town and the airfield with the hills beyond. When I visited him in February 1961, he was inspecting his newest investment, a very handsome bullock cart for bringing in firewood from the forests. A small group of pensioners have settled near Tikajit in temporary dwellings. Such a man is bound to have subjects."
Unquote.
Captain Tikajit Pun died in Nepal on 29/10/1977
An obituary of Tikajit Pun detailing and his service with 3/2 GR was written by Colonel P.H.D. Panton, CBE, and published in the 1977 issue of the Regimental Newsletter of 2 GR.
Quote,
"Tikajit Pun and the Third Battalion: When I joined the 3rd Battalion in 1943, Tikajit Pun was in D Coy. He had been with the 3rd battalion in the 1st Wingate Expedition, had earned an IDSM for gallantry and had got safely back to India .
3/2 GR was in a curious mood on it's return from Burma . During the Wingate Expedition the normal battalion organisation had been broken up and the battalion had been split into columns commanded by strange officers. The columns themselves were composed of a number of nationalities and the strength of the battalion had swelled by Gurkhas drawn from many regiments and battalions. The campaign itself was difficult for the men to understand and had ended with columns splitting into small parties to find their own ways back to India . Gradually, in dribs and drabs, the men of the battalion returned and orders were received to reform 3/2 GR as a normal battalion. It cannot be wondered at, then, if the battalion had lost a great deal of it's battalion spirit, it's administrative capability and it's feeling of unity. It had also, which was worse, lost a lot of it's spirit, for columns had been trained to dodge the Japanese rather than kill them.
Luckily Reggie Hutton was appointed as the new CO and he in his understanding way saw what was wrong and what had to be done. His greatest need was for experienced officers, British and Gurkha, who knew how a properly organised battalion should be run in order to be an efficient fighting machine. He and I were the only pre-war British Officers, and I was pretty raw material. He had, therefore, to rely practically on his Gurkha Officers to remake the battalion. Many of those who had returned from the Wingate Expedition had been tried to the limit and beyond of their physical and mental endurance. Some were burnt out: others were tired in body and mind.
Reggie had first, then, to choose his GO's, his stalwarts, on whom to re-build the new battalion. The number was small but they included amongst them Tikajit Pun, Chandraman Gurung, Manbahadur Gurung, Naising Thapa, and Dhurbusing Thapa. He also chose as his SM. Dansing Thapa, who was then at the regimental depot, because he knew him of old and knew that what the new 3/2 GR wanted apart from things of the spirit was good solid organisation and administration and there is no doubt that Dansing was the man for this. And how well he served the battalion with his talent for bandobast. It was now that for the first time I began to see the nature of Tikajit Pun. He had, of course, been brought up in the 1st battalion and had been lucky enough to experience the blooming of that battalion under Gertie Tuker and to have absorbed Gertie's wonderful training for war. He had also been with the 3 rd battalion when George Bain so efficiently and successfully re-raised and formed it.
Tikajit Pun was not a clever GO, but he was shrewd and what he may have lacked in brain he made up for by sheer hard work and application, and he drove himself unmercifully. Luckily, despite appearances - in those days he did not give the appearance of being a particularly robust GO - he was as tough and resilient as any man I have ever met both physically and mentally. He was therefore exactly the sort of GO Reggie wanted to re-build the battalion. Tikajit knew what a good battalion should be like and he was willing to work to the uttermost end of his ability to help Reggie make 3/2 GR into just that. Luckily he had great humanity and though he never spared himself he never asked too much of the men.
Time was very short to get the battalion fit for war again, but with an exceptional CO and with his handful of fine GO's, the thing was accomplished partly at Dehra Doon, partly in the South of India with 25 Indian Division and partly when the battalion reached the Arakan and took post in that key strong point Razabil. Throughout the trying monsoon Tikajit, with fervour, with example but always with deep understanding, drove D Coy until there was little doubt that it was a happy but very efficient fighting machine. During the great 3rd battalion battle for Point 1433, Tikajit was on leave, but he returned for it's aftermath. B Coy had had a considerable mauling so Tikajit was transferred to it, and in a short time, had bought it back to a fine pitch of fighting efficiency.
Up to this point I have not mentioned the British Officers because, though they could be relied on to lead with gallantry and guts, they were, despite, or perhaps because of, the Wingate Expedition, inexperienced especially in training Gurkhas. It is not easy now to understand of running a battalion with only two regular British officers, but the difficulties were real enough then. After Point 1433 the young British Officers began to come more into their own, and there is no doubt whatsoever that they had learnt a lot from GO's such as Tikajit. Later the battalion went down the Arakan, took part in the occupation of Akyab and went on to the Myebon landing. There Tikajit's had the disappointing experience of watching his old coy, D Coy, capture by a mixture of cunning and great gallantry Pagoda Hill. How he wished he could have been there in that battle.
About this time I came to the conclusion that the good faithful Dansing Thapa had fulfilled his task of getting the battalion solidly based on good administration and organisation. I felt it time to find a new SM and I thought Tikajit was the man. He had physical and moral courage, he was fine leader, and he had this great compassion for his men. But there were doubts. He had driven himself so hard in a company, would he overdo it in a battalion? And what would the regiment say about a Pun SM? I believed Tikajit was the first Pun SM the regiment had ever had, or anyway, had had for some time. In the event all my doubts were groundless. Although I had certain letters querying whether a Pun should or could be an SM I was able to have my way. All who have ever met Tikajit know how groundless my other doubts were. By sheer application and hard work he drove himself to bring all the administration in his charge to a fine pitch of excellence. Those who have taken part in opposed landings from seaward know the extent and intricacies of the administration involved. But for 25 Indian Division right hooks down the Burma coast in landing craft was its principle role. How lucky we were to have Tikajit to whom we could leave so much of the bandobast.
In the last 3rd battalion battle, the battle of Snowdon, in which Bhanbhagta earned his VC, Tikajit played a major but unobtrusive part, and one for which he has never been given sufficient credit. The only means of reaching Snowdon was by a narrow jungle path winding its way up and down heavily wooded hills. It was over a mile long and rose some 2,000 feet. Half way up to Snowdon we established a company strong point; on part of Snowdon we had another company strongpoint from which we launched B Coy to take the last part of the hill. All these companies in the hills had to be maintained, replenished with ammunition and served with stretcher bearers. This was Tikajit's job, and it was beautifully organised. On the day we captured Snowdon, he had, somehow, had a meal cooked and delivered to all men before the attack went in. Only those who know that country know the difficulties involved; only those who have been on biscuits for five days, as we had, know what morale raiser a proper meal can be. I wonder how B Coy and Bhanbhagta would have done if they had not had a good meal of dhal bhat under their belts?
After Snowdon we returned to India, trained for operation Zipper, went to Malaya and settled for time half at Alor Star and half in Siam at Singora. It was here that the 3rd battalion underwent that very difficult time for all battalions, the change from war to peace. The time when men starved too long of normal freedoms, twisted up a little with emotions, are no longer contained by the single purpose and excitement of war but tend to burst out from the restraint of usual discipline. The people of Alor Star and Singora too were inclined to throw all restraint to the winds after their release from the heavy hand of the Japanese. It was due to Tikajit more than anyone else that the battalion came through this testing time with it's reputation enhanced - in very great contrast to so many other units of both the Indian and British army in Malaya at that time.
His depth of understanding, balance and wisdom on the one hand tempered the imposition of harsh discipline, and on the other restrained, by example by an ever watchful eye, over-exuberance in any form. He certainly taught the British officers how an un-bogus example is a great specific on occasions such as this.
On return to India he went to Santa Cruz in Bombay and started the transformation of 3/2 GR into 2/2 GR. This was not an easy transformation because we had to plan the absorption of a great number of 2/2 GR ex POW's into all ranks. Men of 3/2 GR who had belonged to a battalion which in the words of the divisional commander "had never failed to capture its objective", would now have to yield chances of promotion to men who had spent the last few years as prisoners. Again, it was Tikajit who got us over this hurdle; the men has such implicit trust in him that if he said he would look after their interests they knew, without any doubt, that he would and that is opinion above all would be accepted by any officer of the regiment.
This has really been a long account of the 3rd battalion rather than of Tikajit Pun, but then so far as I am concerned, they are inseparably entwined. How do I remember Tikajit? To begin with I have known many great SM's - NBG and Bohra's amongst them. It is not possible to say one is greater than the others, but it is possible to say that Tikajit Pun was amongst the greatest. I remember him steadfast and imperturbable under small arms fire and bombardment. I remember his championing of riflemen in the orderly room. I remember him giving his daily report in his manly voice, standing straight as a ramrod until, the official part delivered, I would turn to less official matters and he would tip his hat a fraction to the back of his head and his stern mandarin face would relax with that steady smile. I remember taking him with me to visit companies before an attack and seeing how he could inspire Gurkhas to that cocky, nonchalant bravery which has brought success to many a desperate plan. But above all I remember him with the wounded, tears behind his eyes, as he soothed those uncomplaining Gurkhas who, hiding their pain as always from the eyes of the onlooker, suffered in silence.
He was one of the greatest Gurkhas I have ever met and he served the regiment to the uttermost of his exceptional ability ."
Unquote.